Meet Hen's Teeth
Because differentiated brands are as rare as hen's teeth.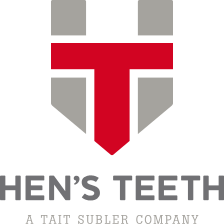 Hen's Teeth is a wholly owned subsidiary of Tait Subler that flies into action when clients want us to help bring the recommended strategy to life in a unique, powerful way.
Hen's Teeth brings together the right talent to help clients execute where it will make the most difference. That could mean a new visual identity system or marketing communication. It could also mean creating a process for internal change management that puts the brand at the center of the business strategy.
Hen's Teeth is a different kind of agency for clients. It aims to be a strategic hot shop. Brilliant execution based on truly original strategy helps Tait Subler clients connect the dots without any hand-offs. Our strategists from Tait Subler will work with Hen's Teeth throughout the process to make sure that nothing is lost in translation between strategy and execution.
And Hen's Teeth brings together the right creative and executional resources in a particular situation. They don't try to sell you a logo when you really need to re-vamp your sales force to succeed with the new strategy. Hen's Teeth is much more than media agnostic. They are execution agnostic because they can address the entire brand experience, internally and externally, focusing on the elements that are most crucial to bring the brand to life effectively.
Interested? You'll find Hen's Teeth at hensteethbranding.com.