Original Perspective
A brand strategy needs to be an idea.
Brand Theme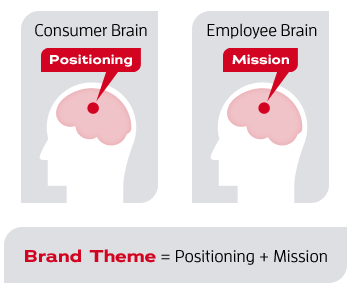 Too often the internal mission for the organization (or brand team) is not connected to how it wants to be viewed by its consumers so the employees' day-to-day actions are not aligned with the desired reputation of the brand. This results in a confused and inconsistent brand image. A brand theme solves this problem because this one idea acts as the mission internally and the positioning externally. Just as the theme of a novel must inspire the author to write the book and also touch the reader, so should a brand theme inspire employees and consumers through one compelling idea.
The brand theme should drive all of the company's decisions, not just those related to communication. It should determine what you do not just what you say. Ultimately, the brand strategy and the core business strategy need to merge.
Emphatically Differentiating
Our entire mission as an enterprise is to help clients define highly differentiated, holistic brand strategies through innovative models that merge analytical rigor and original thinking.
Many studies show that the most vital characteristic of a powerful, financially successful brand is differentiation from its competitors (Y&R Brand Asset Valuator, Stern Stuart). Yet recent studies show that in fact, very few brands are really distinct from their competitors (Ernst & Young, Greenfield Online/Copernicus). So while everyone acknowledges the importance of differentiation, almost no one achieves it.
We think that's because original thought is left out of the strategy development process. To be different, a brand needs to be guided by a compellingly original strategic idea – an idea that provides the compass and inspiration for distinct, consistent execution/behaviors in every dimension of brand experience.
Our entire brand theme development process was created to ensure greater differentiation through a more original strategic idea at the core of your brand.
Making A Values Connection
Advances in brain science are starting to challenge many of the old tenets of marketing and brand strategy. We are learning that the most powerful connection a brand can make is on a values level. Brands that clearly articulate and live up to a values system create more profound loyalty, are more elastic and support higher margins. Some of the most powerful brands in the world – Apple, Nike, GE and Virgin for example – work on this level.
A great brand can help consumers add meaning to their lives by creating a sense of greater personal expression and self-definition. It can only do this when it makes a values connection by linking the brand to ideas of fundamental importance to people. Moreover, making a values connection can also forge a more differentiated brand strategy.
Insight & Synthesis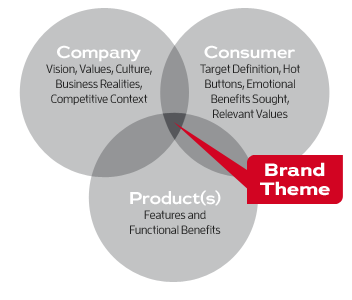 Our synthesis model is one of a few innovative constructs that are central to our approach. It illustrates how we strive for deep insight in each of three vital areas: the company, the consumer and the product/service itself. We hold ourselves to the highest standards of analysis in each of these areas but the real power of our model is in the way we use it to find a single powerful idea at its center. Finding one powerful idea at the center is difficult, but that very process of re-combining insights (synthesis) is the essence of creativity.